Shop.
2008 Official Calendar

Every corner of the One Million Masterpiece has been scoured to find the images that make up the twelve themed montage images in the 2008 Official Project Calendar. This year of design team had a tough job, with thousands of beautiful, though provoking, popular and funny contributions to choose between.
The twelve themes are Water, Love, United Nations, Random, Our Earth, Cats & Dogs, Heat, Something to Say, Portraits, Fantasy, Black & White and Festive.
Every artist is fully credited within the calendar with their name. The calendar also includes details of the project on the front cover and an invitation to join, which makes it a great Christmas gift for family and friends who haven't yet joined!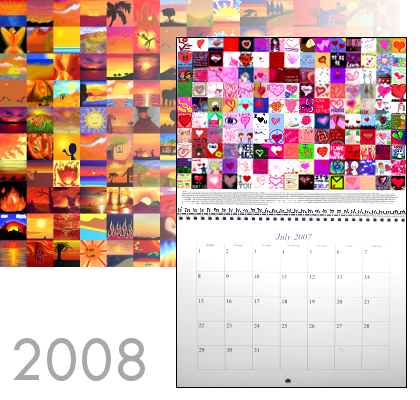 See who's in the calendar here
Calendars will be produced and shipped worldwide by our print partner deviantArt. This year each calendar measures 11in x 8.5in (28sm x 22cm), is spiral bound through the centre and consist of 14 printed pages: 1 front cover, 1 back cover and a page for each month. Additionally, they have an extra heavy protection sheet for safe hanging.
All profits made from the sale of calendars will be donated to the OMM to help cover project running costs.
*Christmas Shipping
If you require faster delivery for Christmas (using Fedex or UPS premium delivery) please order directly from deviantArt here where a wider selection of delivery options is available.