popular bulletins
art & project news

Spotlight: Linzi Stoppard
Mon 25th Jun, 2007
Spotlight : Artist interviews
Some people draw or paint, while others fill our lives with music. And then there are some people who have it all! Linzi Stoppard is an extraordinarily talented electric violinist who is pushing the boundaries of musical convention. The phrase "looks like an angel, but plays like Satan's personal violin player" couldn't have been better placed – it sums up the very reason why she has transfixed audiences around the world over the past few years.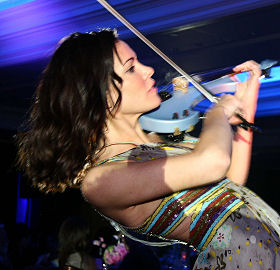 So how would such a super talented musical star react when asked to take part in the OMM project last year? Well luckily for us she jumped at the chance.

"I think it is a cool idea and has a good community feel. I had a really lucky childhood, but someone really close to me didn't. That is why I have just agreed to become an ambassador for Barnardos. My normal weapon is the violin bow but this was an opportunity to contribute to an art collaboration on a global scale using my laptop and mouse. To feel responsible for even one millionth of such a charitable cause is thrilling".

In fact, Linzi has become something of a champion of the project, helping us to secure much needed publicity that has resulted in thousands of new members and charitable donations.

She is currently in the studio recording her debut solo eclectic album on the electric violin and can currently be seen performing globally at exclusive events in London, Paris, New York and the Far East. However, for those of us who can't make it to one of her sets feast your ears on this YouTube sample of Linzi playing.



Be sure to pay a visit to Linzi's square and let her know what you think of her drawing and musical talents!
---
Comments & Discussion
---
You must log in to comment on this blog post. If you are not already a member, please register for free, click here.