art & project news

Official Facebook Application launched!
Tue 6th Nov, 2007
New features
We've just taken the wrapping off our new official Facebook application and would like to invite all Facebook users to take it for a spin.

So what does it do? The application links your OMM and Facebook accounts, and allows you to create a mini gallery of your favourite OMM pictures that can be replayed directly from your Facebook profile. The profile gallery looks something like this: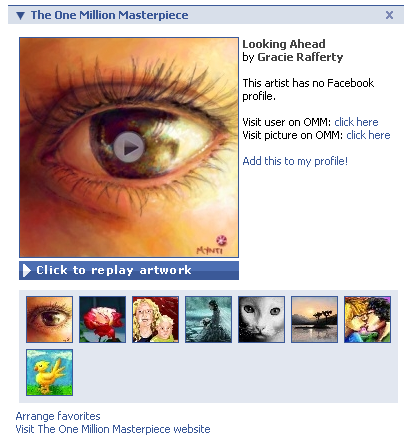 It's a great way to show off your artistic skills, or simply brighten up your profile with a cool replay. Of course it will also attract new OMM members, which will help to boost the existing community.

To read more, or to install the application, please visit http://www.facebook.com/apps/application.php?id=4935742698

The application has been developed by our voluntary Special Projects Developer Jozsef Fejes and our Technology Director Eamonn. These guys have done an extraordinary job, so let's show our appreciation by giving it a go!
---
Comments & Discussion

Wed 7th Nov, 2007
Just trying the app now. It looks and works great, and really livens up a facebook profile.

Wed 7th Nov, 2007
o.O LOL well this is cool, I'll add it to my facebook :D Weird seein my eye up there :D Cheers guys, nice bit of code ya got goin there :D

Wed 7th Nov, 2007
awesome! i'm SO adding it now.

Wed 7th Nov, 2007
Its really good. Now you can have replays of any OMM picture on your facebook profile.

Thu 8th Nov, 2007
And you can invite your friends too :)

Sun 11th Nov, 2007
I've installed the app, and linked my profiles, but nothing shows up on my facebook profile. i have the space for the artwork, but then a big blank. What do you suggest?

Sat 17th Nov, 2007
Nice one - it works great

Fri 21st Dec, 2007
hmm i've tried many times to get the application to work, it won't let me link to my profile or add pictures... i wish it worked!

Wed 16th Jan, 2008
oh wow! can't wait to try it! Thnaks guys!
---
You must log in to comment on this blog post. If you are not already a member, please register for free, click here.