popular bulletins
art & project news

Spotlight : J West
Fri 14th Sep, 2007
Spotlight : Artist interviews
There are many hundreds of portraits peering out at us from the depths of the One Million Masterpiece. Drawing a portrait is satisfying for any human being because, over many thousands of years, we have become nature's face-specialists. An entire area of our brain is dedicated to face recognition, and people have spent their entire lives studying it.

The array of portraits that can be found on this website is dazzling. One look at our latest portraits collection of 414 of faces show what an incredible impact they have when placed side by side.

Back at the OMM big bang, when there were less than 300 images making up our little hand drawn world, portraits were already becoming a firm favourite. And for the first several months of the OMM there was a firm favourite face among the firm favourite faces!

On 17 July 2006, just four days after the OMM launched, J West drew her Baby Sleeps portrait. Using a rather more primitive version of the drawing tools available today, she produced something very special indeed.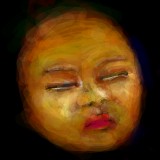 J West has been a supporter of this project from the outset. She has maintained a high profile in the community pages and has contributed to many important debates that have shaped the direction of the project. The fact that she is a constant presence, and has produced an image which has inspired so many people are reason enough to celebrate her contribution as our Friday Spotlight.

I hope the upgrade to Supporter status goes some way to recognise the commitment she has shown this website, and will encourage her to stay around a little longer!
---
Comments & Discussion

Fri 14th Sep, 2007
Bloomin 'eck . . . You can't spring that on a girl and then not expect her to hyper-ventilate! Um, thank you very much. I feel humbled, for being singled out. And Hi to everyone. ;D

Mon 17th Sep, 2007
A beautiful image to spotlight. But I love both images. A big YAY to support the supporter! Worthy recognition. jks
---
You must log in to comment on this blog post. If you are not already a member, please register for free, click here.